Photo with 6 notes
Richard Doyle's Frontispiece to Ruskin's The King of the Golden River (1851).
"The King of the Golden River" is a delightful fairy tale told with all Ruskin's charm of style, his appreciation of mountain scenery, and with his usual insistence upon drawing a moral. None the less, it is quite unlike his other writings. All his life long his pen was busy interpreting nature and pictures and architecture, or persuading to better views those whom he believed to be in error, or arousing, with the white heat of a prophet's zeal, those whom he knew to be unawakened. There is indeed a good deal of the prophet about John Ruskin. Though essentially an interpreter with a singularly fine appreciation of beauty, no man of the nineteenth century felt more keenly that he had a mission, and none was more loyal to what he believed that mission to be.
Unlike his other works,The King of the Golden River was written merely to entertain. Scarcely that, since it was not written for publication at all, but to meet a challenge set him by a young girl.
The circumstance is interesting. After taking his degree at Oxford, Ruskin was threatened with consumption and hurried away from the chill and damp of England to the south of Europe. After two years of fruitful travel and study he came back improved in health but not strong, and often depressed in spirit. It was at this time that the Guys, Scotch friends of his father and mother, came for a visit to his home near London, and with them their little daughter Euphemia. The coming of this beautiful, vivacious, light-hearted child opened a new chapter in Ruskin's life. Though but twelve years old, she sought to enliven the melancholy student, absorbed in art and geology, and bade him leave these and write for her a fairy tale. He accepted, and after but two sittings, presented her with this charming story. The incident proved to have awakened in him a greater interest than at first appeared, for a few years later "Effie" Grey became John Ruskin's wife. Meantime she had given the manuscript to a friend. Nine years after it was written, this friend, with John Ruskin's permission, gave the story to the world.
Image from here, text from here.
Source: victorianweb.org
Photo with 22 notes
Self-portrait, by Sir John Tenniel. Pen and ink on cream wove paper, 1889
Sir John Tenniel (1820 – 1914) was a British illustrator, graphic humorist and political cartoonist whose work was prominent during the second half of England's 19th century. Tenniel is considered important to the study of that period's social, literary, and art histories. Tenniel is most noted for two major accomplishments: he was the principal political cartoonist for England's Punch magazine for over 50 years, and he was the artist who illustrated Lewis Carroll's Alice's Adventures in Wonderland andThrough the Looking-Glass.
The pen and ink drawing was an experiment in technique and in self-portraiture. It was drawn in 1889, and Tenniel wrote to his friend Spielmann, 'I am glad to tell you – at last ! – that you shall have the portrait in a day or two. It is considered a very good likeness, but too serious. Well, taking one's own portrait is a serious business, at any rate, I hope you will like it.' Tenniel's enduring concern with technique is reflected in a further letter, accompanying the finished drawing: 

I am very glad that you like the portrait. The thing [drawing for process] was so new to me, so entirely 'out of my line' that I really don't see how I can make any charge for it; besides, I looked upon it more as an experiment, with a view to 'process' – than anything else, & therefore, I can only say that it will give me great pleasure if you will do me the kindness to accept the drawing as a contribution to your little 'portrait gallery'.… Do you consider the drawing capable of reproduction by 'process'? I have my doubts!

Tenniel's tentativeness with a new technique is expressed in the careful stippling and cross-hatching of the drawing.

The drawing is closely related to Tenniel's self-portrait in oils of 1882 (Aberdeen Art Gallery, 3664). The bushy sidewhiskers characteristic of the earlier images are absent here and from other portraits of Tenniel from about this date. 

John Tenniel was blinded in one eye 'when quite young' in a fencing accident with his father. According to his brother-in-law Leopold Martin it was the right eye. This did not prevent Tenniel from posing from all angles to photographers, and indeed choosing to display his right side in the two self-portraits (1882, 1889), and in his portrait by Frank Holl, NPG 1596.
Source: npg.org.uk
Post with 12 notes
The NLS online digital gallery now includes a collection of 2,300 broadside ballads from the 19th century, one of the Crawford Collections on long-term loan from the Balcarres Heritage Trust.

Ballads have been called the tabloid newspapers of their day: printed on single sheets and sold and sung on street corners, they offered ordinary people news and entertainment. This latest collection to be digitised covers topics from crime and disasters to fashion and sport.
Visit it here. Image taken from here.
Source: digital.nls.uk
Photo with 8 notes
Ruth The Betrayer (1862) is one of the greatest of all penny dreadfuls, and a long one at 416 pages, or 52 penny numbers. The author, Edward Ellis, was Charles Henry Ross, probably in collaboration with his partner Ernest Warren.
To read the rest of it, go here.
Source: john-adcock.blogspot.co.uk
Photo with 5 notes
Venus at her toilet, by Aubrey Beardsley. (1896)
"In 1907 — nine years after Beardsley's death — Leonard Smithers, the publisher of The Savoy, issued privately the original Venus and Tannhäuser, adding in a "Foreword" that it was "the whole of the manuscript as originally projected by Beardsley." The tale had never been completed, but its design may be surmised from the elaborate title."
Source: victorianweb.org
Photo with 43 notes
1858 Histoire Universelle
This Table of Universal History was published in Paris. It visualises the complete history of humankind, top down, from the creation of Adam and Eve to the then present day. Individual cultures are depicted as rivers.
Source: Guardian
Photo with 10 notes
Proof illustration entitled A Malay Forest with Characteristic Birds for Alfred Russel Wallace's book The Geographical Distribution of Animals, dated 1876.
Source: nhm.ac.uk
Photo with 6 notes
Photo with 7 notes
Mrs Loudon & the Victorian garden
Jane Loudon (nee Webb) (1807–58) was to Victorian gardening what Mrs Beeton was to cookery. Her beautifully illustrated books on gardening and plant identification sold in their thousands and women all over the country were enthused enough by them to take up gardening as a hobby.
Although now really only known for her non-fiction work, her first work, published before she married, was The Mummy, Tales from the Twenty-Second Century', a futuristic look at potential improvements to living in Britain that she wrote to make ends meet as an impecunious orphan. One of these innovations, a steam plough, caught the attention of horticultural publisher and writer John Loudon who met, courted and married her within seven months. They began to work together on John's books and in their own extensive garden. Jane, by her own admission,knew nothing about botany, 'It is scarcely possible to imagine any person more completely ignorant of everything relating to botany than I was at the period of my marriage with Mr Loudon,' but her husband was enthusiastic and expert and she soon became a meticulous, capable gardener ready to aid him with his books.
Loudon's greatest work was the epic Encyclopaedia of Gardening. Jane assisted him with research and note taking, adding to her own knowledge as she went along. It gradually occurred to her that the technical terms and descriptions were rather off-putting to new gardeners, particularly women, who although literate and interested had often not been well schooled in the sciences. Instructions in Gardening for Ladies was published by her in 1840. It was precise and correct but written in an anecdotal style which made it easy to follow; more than 200,000 copies were sold. The opening remark in her introduction to Botany for Ladies (1842) reads, 'The following pages are intended to enable my readers to acquire knowledge of Botany with as little trouble to themselves as possible.'
Other books soon followed: the four-volume The Ladies' Flower-Garden (1840–8), The Ladies' Companion to the Flower-Garden (1841), British Wild Flowers (1846), and The Amateur Gardener's Calendar (1847).
 By this time Jane, a self taught artist, had begun to illustrate her own books. Her style, which involved grouping the flowers to form bouquets made her designs popular to copy as well as being used for decoupage on trays, lampshades and tables. She made full use of the new technique of chromolithography which made print production much faster and enabled her to increase her output.
John Loudon's fortunes however, had taken a downward turn whenan arboretum he planned and planted left the family nearly penniless. His health, which was always fragile, declined rapidly until he died aged 60 in 1843. Jane's response was to work harder than ever. Her output of books increased and she took on other work to supplement her income and pay off some of the debts.

Her own early success came to an abrupt end in 1848 when she was asked to resign as editor from The Ladies' Companion at Home and Abroad. It coincided with a decline in the sales of her books and her financial situation became so desperate that she was obliged to ask for money from the civil list. She died virtually penniless in 1858 aged 51.

Jane Loudon's influence is difficult to exaggerate. She made gardening accessible and managed to communicate her own enthusiasm in a very practical, useful way. Through her books, gardening came to be regarded as a recreational activity for everyone.

For more, go here.
Source: vam.ac.uk
Photo with 26 notes
Every Monday, I volunteer at the Glasgow Women's Library, helping out on reception and doing odd bits and pieces around the place. Yesterday, the archivist Laura asked me to help out with some research, and I spent the day reading suffragette newsletters from the beginning of the 20th century. Fascinating stuff!
The GWL is a wonderful place - if you ever get the chance, come to one of our events, or just pop by for a cup of tea.
Source: womenslibrary.org.uk
Photo with 31 notes
Newspaper report on the 'Whitechapel murderer' aka Jack the Ripper. The Illustrated Police News, 1888
Source: bl.uk
Photo with 31 notes
Florence Nightingale's "Diagram of the Causes of Mortality in the Army of the East" (1858); also commonly known as the Rose Diagram
Source: BBC
Photo reblogged from Sigh. with 16 notes
Today, in 1845—can it be 167 years ago!—The New York Evening Mirror published "The Raven," the first work attributed to Edgar Allan Poe.  The Mirror's editor wrote of it that it was "unsurpassed in English poetry for subtle conception, masterly ingenuity of versification, and consistent, sustaining of imaginative lift… It will stick to the memory of everybody who reads it."

The latter has certainly proved to be the case.

"The Raven" has also inspired countless illustrators, including two of my personal favorites, Gustave Dore in 1884 (above) and John Tenniel in 1858 (below), but also William Heath Robinson in 1900 (third image) and, perhaps most recently, cartoonist Gahan Wilson (bottom).
Photo with 11 notes
Papaver somniferum. Poppy-white or opium. James Sangster & Co.,London :  [1853] 
Source: images.wellcome.ac.uk
Photo with 21 notes
Image Above: Elizabeth Siddal; Self Portrait in Oil (1853-54)
Image Below: Dante Gabriel Rossetti; Elizabeth Siddal (1854)
- Note the difference between her self-representation and his idealised depiction of her.
In an Artist's Studio

One face looks out from all his canvases,
One selfsame figure sits or walks or leans: 
We found her hidden just behind those screens,
That mirror gave back all her loveliness.
A queen in opal or in ruby dress,
A nameless girl in freshest summer-green,
A saint, an angel —every canvas means
The same one meaning, neither more nor less.
He feeds upon her face by day and night,
And she with true kind eyes looks back on him,
Fair as the moon and joyful as the light:
Not wan with waiting, not with sorrow dim;
Not as she is, but was when hope shone bright;
Not as she is, but as she fills his dream.
Christina Rossetti wrote this poem about her brother, the artist and poet Dante Gabriel Rossetti, and his muse, Elizabeth Siddal. For years Siddal was known primarily as the woman who modeled for Rossetti and his fellow painters and was perhaps better known for her morbid postmorten experience than for anything she accomplished in life. Today, Siddal has become a sort of feminist icon, the subject of biographies, her work resurrected by galleries and websites.
Siddal, Elizabeth Eleanor (1829–1862), painter, was born at 7 Charles Street, Hatton Gardens, Holborn, London, on 25 July 1829, the third of eight children of Charles Siddall, ironmonger, and his wife, Elizabeth Eleanor Evans. Of respectable working-class background with some pretensions to gentility, without formal education, she nevertheless possessed an instinctive refinement of manner. Her deportment, said to be 'like a queen', was perhaps formed by her work at the dressmaking and millinery shop in Cranborne Alley, Leicester Square, to which she journeyed from Southwark, where her family was living. In 1850 she was noticed by the artist Walter Deverell, who asked her to act as a model for him and a group of young friends who were beginning to distinguish themselves as the Pre-Raphaelite Brotherhood. She agreed, and sat for Deverell, William Holman Hunt, and for John Everett Millais as the drowned Ophelia. Within a short time she was sitting only for Dante Gabriel Rossetti (1828–1882).
Image: Millais's Ophelia (1851-52)

Siddal's features are apparent in nearly all Rossetti's work until her death, most notably in Beata Beatrix (c.1860–64), Regina cordium (1860),  A Christmas Carol (1857–8), and Writing on the Sand (1859). By pen and pencil he conveyed in his innumerable studies of this quite ordinary girl, the fragility of an idealized beauty, and the paths of ill health, for in an enfeebled frame she seemed to carry the seeds of consumption. These studies, rare in quality, present a unique series; Sir John Ward considered that there was nothing comparable in European art. The pathos of her strange beauty is recorded in heavy lids drooping over agate-coloured eyes, wings of copper-red hair framing a face singular in its remoteness. Languor informed every portrayal, whether sleeping, reading, or (rarely) standing. In these representations 'stamped with immortality', she seemed to Ford Madox Brown 'thinner & more deathlike & more beautiful & more ragged than ever' (The Diary of Ford Madox Brown, ed. V. Surtees, 1981, 101). Guggum or the Sid were her pet names; the final 'l' in her surname was discarded to please Rossetti.

Rossetti fostered Siddal's slight talent for drawing, largely derivative from his own work, and saw genius in her strangely haunting imagery. She worked hard and for a short time attended an art school at Sheffield. Her early drawings, Pippa Passes and Lovers Listening to Music (both 1854), show some technical proficiency, while the slightly later watercolours executed as her strength diminished are those of an amateur. The figures are awkwardly flattened, without any semblance of life, and are dependent on the emotional context of the subject. These—taken from medieval lore, border ballads, and from works by Keats, Browning, and Tennyson—are placed within tightly enclosed spaces and illustrated by strangely remote figures largely imbued with her own melancholic nature. Examples include Sir Patrick Spens (1856), St Agnes Eve (c.1856), and Clerk Saunders (1857). Her Self-Portrait (1853–4) is in private hands, as too are Lady Clare (1857) and The Quest of the Holy Grail (1855). Some of her designs were included in the 1857 Pre-Raphaelite exhibition in Russell Square. John Ruskin praised her watercolours and wished to settle money on her in exchange for any work her health permitted.

Siddal also wrote verse of a disillusioned and morbid character, echoing her own sense of neglect, for the passionate love of the early years had turned to disenchantment. With sadly impaired health and frustrated by Rossetti's reluctance to commit himself to marriage, and his too apt inclination to infidelity, she resorted to ever-increasing doses of laudanum. Finally, on 23 May 1860 Rossetti married her at St Clement's Church, Hastings; a year later a child was stillborn. Elizabeth Siddal committed suicide on 11 February 1862 with an overdose of laudanum, in their rooms at 14 Chatham Place, Blackfriars. She was buried on 17 February with other members of the Rossetti family in Highgate cemetery. Rossetti's complex feelings of remorse and guilt for the discords and disillusions of their life together fluctuated with the years though the haunting recollection of his wife was translated into a few lines, scribbled in his notebook:
As much as in a hundred years, she's dead:

Yet is to-day the day on which she died.

(The Collected Works of Dante Gabriel Rossetti, ed. W. M. Rossetti, 1886, 1.380)
In October 1869 Siddal's coffin was opened by her husband's wish and a book of his poems, laid beside her at death, was removed. These he published in Poems (1870).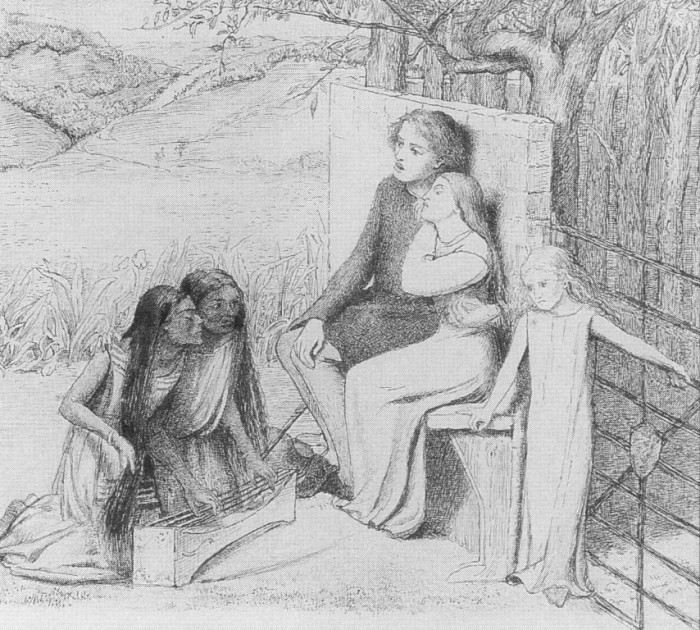 Image: Siddal's Lovers Listening to Music (1854)
Image sources: here and here. Content from here and here.
Source: oxforddnb.com